Website and E - Commerce
Sell anything. Odoo E-commerce fits all kinds of businesses. It has hundreds of ready-to-use features. You don't have to invest in many plugins anymore.
SEO Optimised & Mobile Friendly. Use integrated tools to help you be top ranked in search engines. Your website will be automatically adapted on mobile devices.

Configure products variants, such as color or size, and set a different price for each configuration.
Your eCommerce is integrated with other Odoo modules, such as Helpdesk or CRM.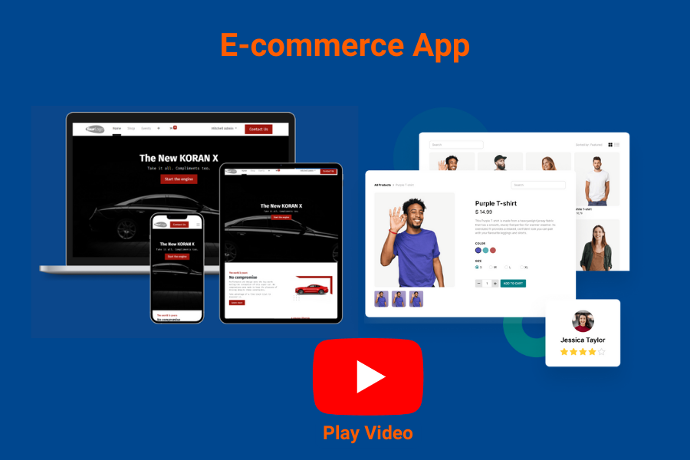 E - Learning
Educators, instructors, coaches, managers, onboarding staff, or even eLearning superheroes - search no more: Odoo eLearning is the perfect Learning Management System to enable Community learning, share knowledge, and inspire others!
Quizzes, points, badges, cohort Q&A. Participants retain more and can help each other - decreasing the time it takes to level up! Meaningful learning experiences lead to increased attention and focus, higher levels of critical thinking and more productivity!
Grading is the easiest part! Odoo eLearning computes scores for your students automatically, gives them feedback, certifies their successes, and rewards them with points, badges, levels or even prizes!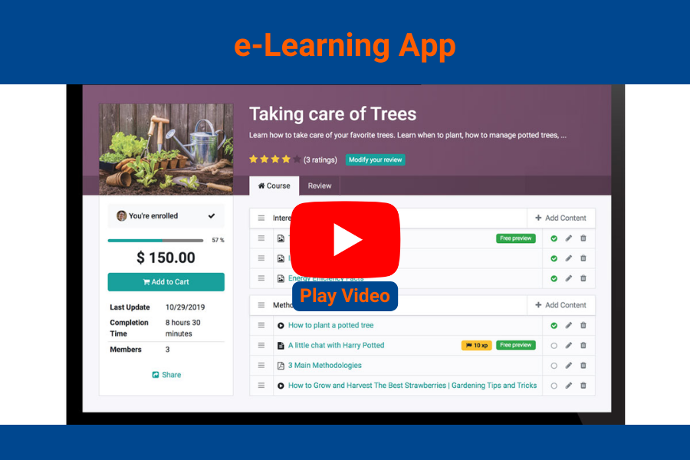 Events Management
Host events that resonate with your audience. An all-in-one event management platform, capable of handling events of any type or scale.
Odoo Events covers all aspects of an Event Planner's job from event organization and ticket sales to visibility and promotion.
Manage event registration and online ticket sales. Choose whether you would like to publish a free event or have your attendees purchase tickets through the event page. Pick the payment method with online credit card processing or customer invoicing. Define special conditions such as Early-bird ticket prices, member perks and benefits, or multiple ticket tiers. Everything you need to boost your event attendance and manage your guest lists all from one place.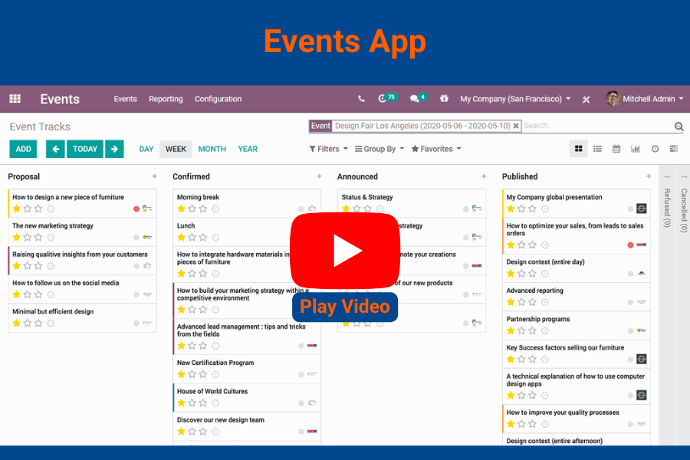 Surveys
Easy from the start thanks to an extremely user-friendly interface, Odoo Surveys allows you to create and edit surveys with no effort. React to your marketing needs and provide studies anytime. Run your statistics, measure response rates and extract the analysis in a few clicks. Don't waste time on the process and focus on qualitative and quantitative analysis.
Create beautiful and clear survey forms with no effort. Use images on the background and to illustrate questions.
Create live surveys where the host manages the pace of the session and participants can see the question's results and rank live.
No need to synchronize results with your database. Odoo takes care of it automatically! Obtain and view result charts in real-time.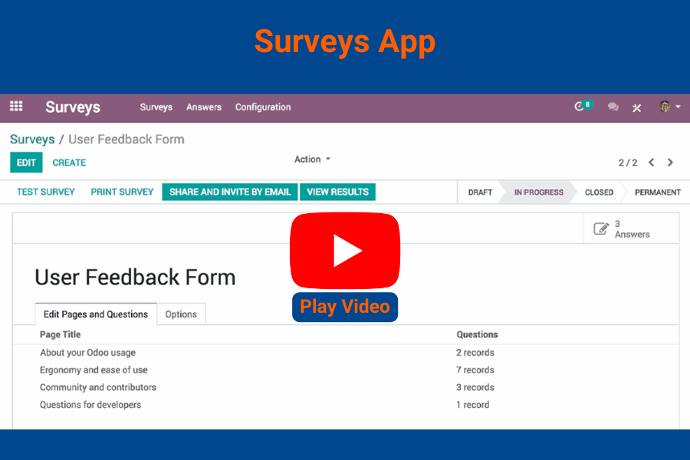 Social Marketing
Manage Social Media, Web Push Notifications, and Live Chat.
Plan, monitor, and analyze your accounts in one place. Find new customers and keep users' engaged. Being present on Social Media increases awareness, connects you with your customers, boosts leads, and income. It can also provide customer support and help broadcast important company news and messages.
When push notifications arrive, the user's focus quickly shifts to it, immediately capturing attention. The short and straightforward messages allow users to read the messages from the corner of their eye, and click on it if interest is triggered.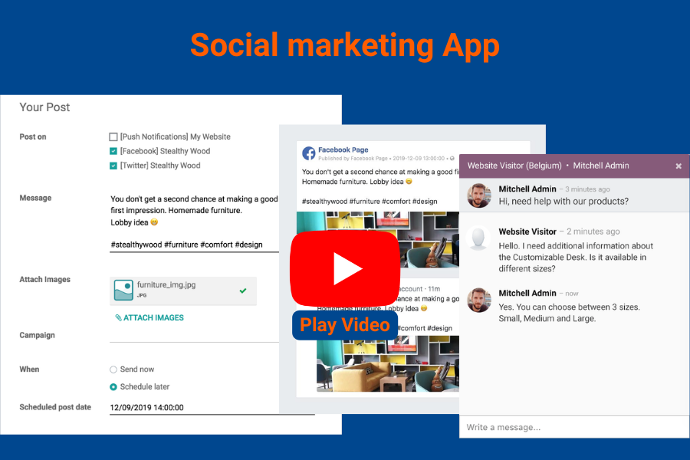 Email Marketing
Craft successful email campaigns that resonate with your prospects without any IT knowledge. Get total control over your email content and layout thanks to an intuitive and easy-to-use software.
Optimize your results by sending your campaigns to targeted groups within your database. Select leads, customers, or any other group from your contacts list by country, by date, by function, and more, all designed to make sure you send your content only to the people you want to share your campaign with.
Get accurate, and real-time statistics on every email sent out. Easily track the number of leads created, orders, the amount of revenue generated, your open rate, bounce rate, click-through rate, and improve your overall marketing strategy.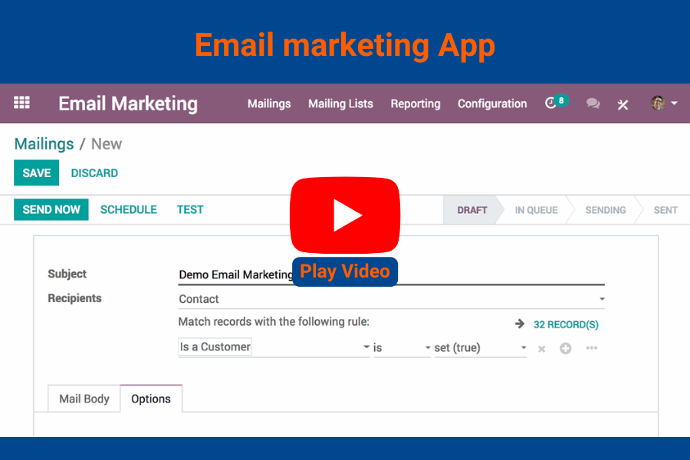 SMS Marketing
SMSs are faster than emails and have the best open rate. Do you need to remind your attendees about your event tomorrow? Do you have a flash promotion that lasts five hours? Go for an SMS campaign!

While even the best email campaigns can sit unopened in many inboxes, and for a long while, SMSs arrive directly in your contacts' pockets, with almost absolute certainty that they will be opened and read in the next minute.
Prepare all your SMS campaigns and schedule them to be sent later. Odoo handles the sending for you, which means that you don't have to be connected for your campaign to be spread out to the world!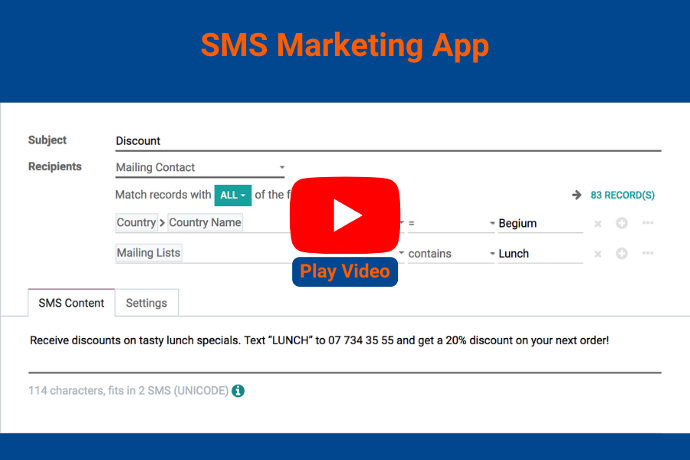 Marketing Automation
Create automatic & targeted marketing campaigns. Automate your workflows and scale your business. Segment your prospects database to deliver the right message to the right prospect at the right time. Set up advanced marketing workflows that are centered around your prospects and nurture them efficiently through your sales funnel, 24/7.
Creating a multi-stage campaign with several paths is as simple as two-steps campaigns. Add new actions and select time triggers directly on your workflow.
Create end-to-end customer journeys and use workflows to automate tasks such as moving a lead forward in your sales funnel, assigning engaged prospects to your sales team, updating a record and more.

Use if/then actions to perform specific tasks after an email has been opened, clicked or replied.