Project Management
Schedule your teams across projects taking employees' holidays into account. Plan ahead for upcoming projects with forecasts based on comparable projects and estimate deadlines more accurately. Compare forecasts with real timesheets for increased profitability.
Simplify your processes and enhance employees collaboration.
Break down your project in bite-sized tasks and assign them to your team for improved collaboration.Create customized stages for each project to simplify your workflow overview and increase overall project efficiency.
Add quick notes or attach files to any task and stay connected to your team. Forget endless follow-up meetings to keep track of projects. Communicate through the chatter, write in a shared real-time pad, or use live chat - all within a single interface!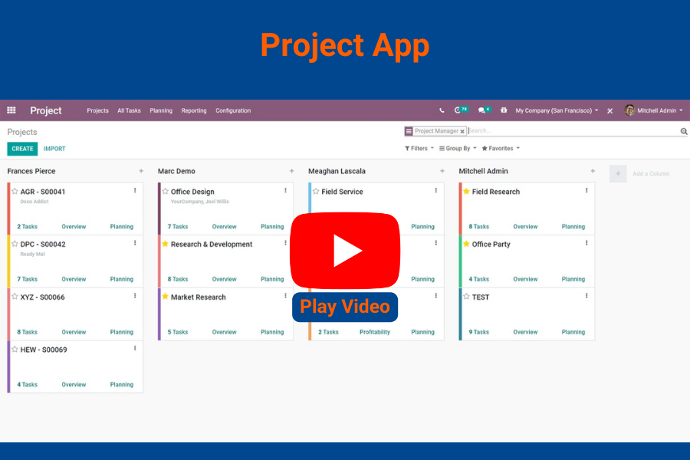 Planning
Advanced Gantt Chart. At the center of Odoo Planning, there is an advanced and beautifully designed Gantt chart tool. It gives you a clear understanding of your upcoming planning and lets you modify assignments or shifts' times with a single click.
Whether you are looking to manage your employees' schedule or forecast your projects, Odoo Planning helps you focus on the coordination, and makes organizing feel like a breeze. Create shifts, assign and reassign them with a single drag-and-drop click.
Your employees can access their schedules through their personal portal. Not only do they get a clear view of their shifts, but they can also take open shifts or unassign themselves directly from their computer or their smartphone.

Field Service
Deliver excellent services to your customers everywhere.
When you are onsite, what matters is that you deliver excellent services.
Your tools need to be intuitive and as mobile as you are.
Odoo works on any device connected to the internet and has been designed with mobile devices in mind. There is no need to install any software nor worry about device compatibility. Just open your web browser and get your work done!
Track your working time. Odoo Field service comes with an integrated one-button time-tracker. Of course, you can also record your time manually.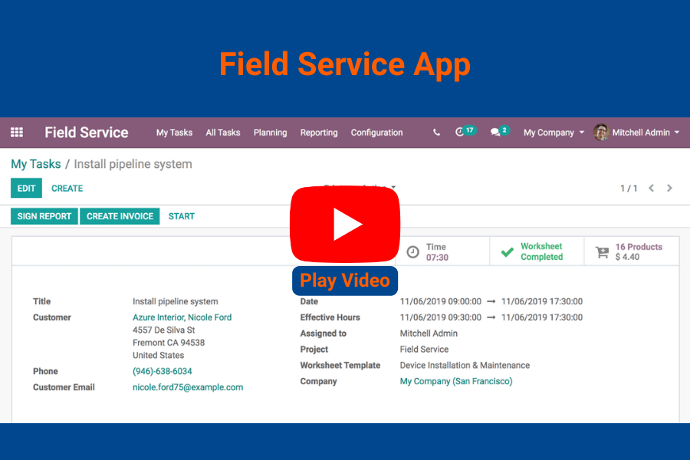 Helpdesk
Track, prioritize, and solve customer tickets. Organize your tickets the way you want with the amazing kanban view. Get an instant overview of your team's workload and check the status of a ticket based on your custom tailored SLA rules.
Develop your self-service platform by directly linking your FAQ, training videos, and presentations on a ticket. Develop a community around your product with the forum.
Allow customers to close their tickets. Grant autonomy. Improve productivity. Reduce the chance of error, avoid misunderstandings and leave more time for Helpdesk Teams to worry about what truly needs their attention.