Manufacturing & Inventory Apps

Manufacturing and MRP
A complete manufacturing solution.
Use make-to-order rules, minimum stock rules or the master production schedule to automate procurements. Let the scheduler compute everything for you. Use routes, constraints and lead time to optimize inventory level and avoid shortages.
Control your productivity with real-time Overall Equipment Efficiency (OEE) reports and monitor the 6 big losses of TPM. Track maintenance KPIs like MTTR and MTBF. Create customized dashboards to monitor performance in real time.

Dynamic reports on everything from costing to traceability, performance analysis, OEE, and more help you make smarter decisions about your business.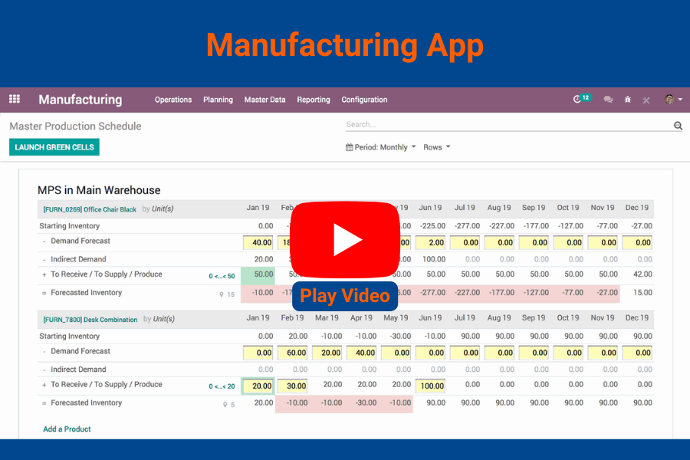 IoT (Internet of Things)
The IoT Box allows you to connect external devices to your Odoo database. Connect the IoT Box and the devices you need to your database in no time, no technical expertise required.
Add any measurement tools you use...such as digital calipers, micrometers, gauge feelers, height gages and more. Measurements are linked to the Products you are processing and you can continue or reject at each step.


With the IoT Box, devices are fully integrated with existing business processes, boosting your productivity. Devices can be connected through Wifi, Bluetooth, USB or HDMI.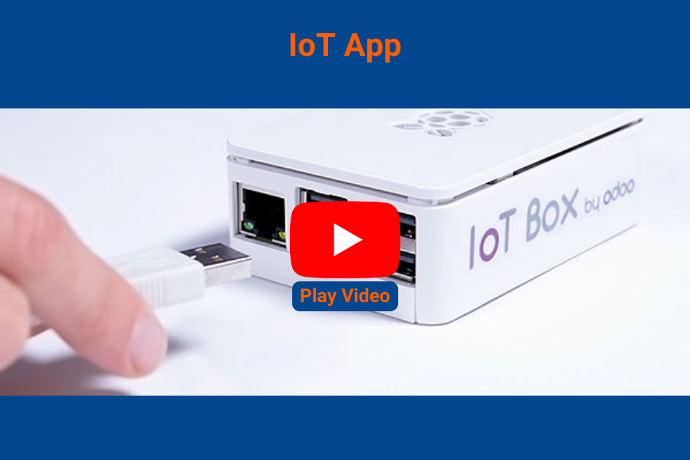 Purchasing and Inventory
Improve your purchase and inventory performance with procurement rules depending on stock levels, logistic rules, sales orders, forecast manufacturing orders, etc. Select different replenishment methods for each product depending on your manufacturing and delivery strategies.
Easily import suppliers' price lists and references to make smarter purchase decisions based on promotions, quantities and special contract conditions. Keep track of a product availability in your supplier's stock and check your order status from within the app. You can even base your sales price on your supplier's prices.
Track every stock move from purchase to warehouse bin to sales order.
Trace lots or serials upstream or downstream from anywhere in your supply chain. Use barcodes to improve the efficiency of stock movements.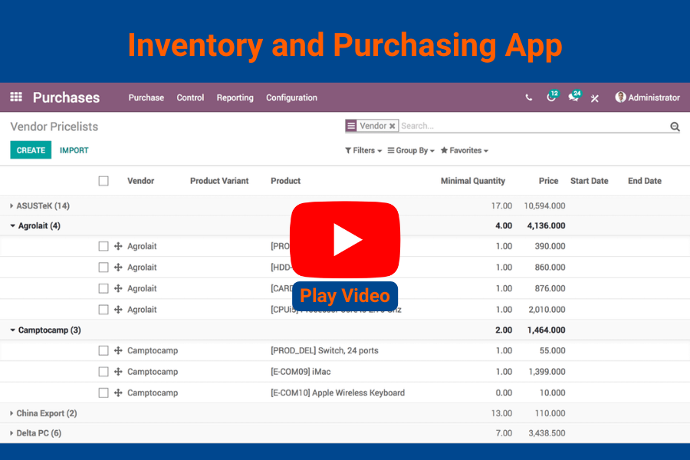 Maintenance
Odoo computes standard statistics to help you plan preventive maintenance, including mean time between failure (MTBF), mean time to repair (MTTR), and expected next failure date, and lets you automate metrology and preventive maintenance scheduling.
Easily track the progress of maintenance requests using the kanban view. Use the maintenance calendar to organize and plan activities. Your team will love using the fast and easy drag-and-drop interface to organize maintenance requests.
The manufacturing department can trigger maintenance requests directly from their work center control panel. When your maintenance team acts, the right people will be updated in real time.